In 2022, Madeline Boles was named one of the BusinessJournal's Next Generation Leaders, an award that recognizes up-and-coming business leaders across a range of industries. That recognition rang true because Madeline truly represents the next generation of leadership, not only in the staffing industry, but also in the light industrial sphere at large.
After transitioning from a middle school counselor into staffing sales, Madeline quickly became the highest performing sales driver at Ōnin. It wasn't simply her ability to pitch a service that made her successful in sales, nor was it her connections. Madeline's success derived from her commitment to clarity, openness to growth, and ability to understand the needs of complex individuals and organizations. These are all talents Madeline brings to her newest role at Ōnin, Director of Business Development.
Madeline's connections may have allowed her to get her foot in the door, but more than anyone I know, Madeline is determined to use her leg up to help those around her excel. In a world where companies must adapt to address the complex needs of the low-wage workers — I don't know a better individual to speak to the needs of the modern worker and the modern leader.
This is Take5.
Shane: Normally, I just jump right in, but I have to tell a story about Madeline. The first time I met Madeline, she was sitting in a conference room. I was still fairly new at Ōnin, so I dropped in to introduce myself, and she introduced herself as Madeline Boles, the Branch Manager at McCalla, Alabama. That's all she said. It wasn't until about 18 months of us working together pretty closely, fairly often, that I found out that you're the daughter of Ōnin's Managing Partner, Hugh Thomas. The Madeline Boles I met operates outside the context of that association, and it's awesome. It's one of the things that, honestly, endeared you to me early on. You could have played that card for a long time, but you never did, and you never have. And so, I wanted to approach this right out of the gate by saying that's a big character trait.
Madeline: Thank you for saying that, and it was really important to me to start within this organization as Madeline Boles and not as Hugh's daughter, though I'm so proud of what he and Managing Partner Keith Phillipshave built. I do remember when we first started working together, you told me that I was putting in the most marketing requests by a mile, and I thought that was pretty funny because I was badgering your department and have been ever since.
But at the time, I didn't really tell anybody about my association. Josh Gluskin, Ōnin's Vice President of Field Sales, knew early on, but nobody in the McCalla office I worked at knew. It wasn't until a year or so in that I started to tell people because I didn't want to deceive people. You get to know your coworkers, and they ask what you're going to do this weekend, and sometimes I felt like I was leaning on the edge of lying, so I started to tell a few people, but it's something I kept close to the vest for a little while.
Shane: Your relationship may have helped you get your foot in the door, but I don't think anybody could deny the splash you've made since you've been here, and it's awesome. Was this your first gig out of college, or did you work somewhere before Ōnin?
Madeline: To start my job at Ōnin, I actually had to interview three times for almost two hours each for my entry-level Business Development Manager role in McCalla, Alabama. I went through the full process. I had no idea that I would like sales or what I wanted to do with my future at Ōninwhen I joined the organization, but I knew knocking on doors in industrial parks and interfacing with potential and current clients would be a great way to learn what we do.
Before Ōnin, I was a middle school, eighth-grade counselor. I had a twisty turny path in college in regards to finding a major. I knew that I wanted to be in a role that helped people, specifically children at that point, but I just did not know what I wanted to be when I grew up. I kind of stumbled and fell into human development and family studies and ended up getting my master's in counseling. I worked at Simmons Middle School in Hoover, Alabama as an eighth grade counselor after leaving Nashville and working there as a counselor for a couple of years too.
Ultimately Ōnin is a great fit for me because I can lean into the competitive edge that I've always had. I can bring in new clients or help Ōnin sales drivers bring in new clients now while still being in a "helping profession." My college-age self couldn't figure out what the heck I wanted to do with my life, but I knew I wanted to help people. Now, I'm actually getting to do that through all Ōnin provides to the low-wage earner. Helping people just looks way different than I thought it would.
Shane Minor: That leads us into this first question pretty nicely. What has been your greatest accomplishment professionally up to this point in your career?
Madeline: This question is the hardest one for me, partially because I feel like I'm just getting started. I feel like I've had so many small moments, so many experiences that have layered on top of each other. Ultimately, I look at my time with Ōnin in phases. I think there are greatest accomplishments within each of those phases.
I started as an entry-level salesperson and was poured into by Josh. I grunted it out in the field and ultimately built a book of business that I was really proud of. In my next phase as an area manager, I played a significant role in developing the Mercedes account, which is now the genesis of many of Ōnin's most innovative and effective programs that we bring to the rest of the company.
Then, there's the chapter that I'm in now where I have been given the opportunity from executive leadership to leave the field and build something for the company. I've had to go through a lot of personal development to pull myself out of the field because I am a field girl through and through. But now, I'm a part of Ōnin's first true Field Sales department.
What I've learned through each of those phases has prepared me to do what I'm doing now: Developing and evolving our Road To Success platform.
The Road to Success is Ōnin's own strategic sales platform, and there are three core components: navigate, equip and celebrate.
The navigate section is the nuts and bolts, our go-to market strategy. Josh taught me a version of this back in 2016. I put that into practice in the field, lived it out, and it worked. Since then, our team and many others have put their heads together and Ōninized that initial strategy into something that is much more robust and also more fitting of who we are as an organization and our culture and values.
The equip section is where I'm living and breathing now. That's our sales approach, how we connect with our prospects on a human level, and how we show future clients that we're in it for them and can help solve their problems. We're spending a ton of time developing our sales narrative to make our approach clear.
For the celebrate component, we're starting to see the fruits of, not just our labor of putting the platform together, but of the blood, sweat and tears of the sales drivers who are living out our go-to-market strategy and sharing our sales message. That's really fun to see.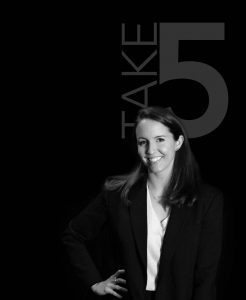 Shane Minor: A lot of people may not know this about you, but one of the things I find interesting about you, in general, is that you're a creative at heart. You draw, you paint, you write now. You're getting to flex creatively in the space.
Madeline: Yes — I have the opportunity to be creative and to imagine ways in which Ōnin can show how we can help solve our prospect's problems. I get to pull on creative levers and collaborate with members of the marketing department, with leadership, and with the field to do so. I can't believe I get to do that. I can't believe that's my job.
As one colleague put it, I'm sort of becoming the champion of our sales message. If I could have dreamed up my job within Ōnin, that's exactly where I would want to land. Another neat thing about the Road To Success is it has helped pave the way for the Recruiter Road, our future training and development platform for Ōnin recruiters. There's a team of talented people who are building and curating that content now.
Ultimately, this means that Ōnin will have an incredible program to train sales people to act as expert guides for their clients and a program that makes recruiters experts at finding the best job fit for workers. The teeny-tiny role I get to play in the Recruiter Road is figuring out where sales and service meet and figuring out ways that sales and service can professionally push each other to be better.
Shane: What is your favorite failure, one that taught you an important lesson or put your life on a new trajectory?
Madeline: Throughout all of the phases that I mentioned earlier, I've learned that you're only as good as the people around you. If I think back to the points of my career where I've learned the most, it's because leadership thrust me into a position or a situation that I may or may not have been ready to have handled. I may not have the knowledge or experience to equip me to handle the crisis of the moment, but leadership has empowered me to figure it out. As a leader of others myself, I haven't always done that to the people who worked for me. I had the tendency to hold my clients tight, to be the main point of contact, or to be the one to have the tough conversation. That meant that I wasn't developing the people around me as a leader effectively.
That impacted my ability to progress in my own career.It took me a year and a half essentially to leave my field job duties and really step into my corporate role, and its shouldn't have taken that long. Because I had my hands so firmly gripped around one of our largest clients, I wasn't creating or empowering others to be the face ofŌnin there or to get the first call in an emergency. Then, I had a baby, which took me out of the game for three months. That was huge because I saw then that the world went on just fine without me.
The crazy thing was, there is so much talent at Ōnin, especially within my team. Just being around those people makes me proud. I believed in every single one of those people to the core of my being, and I knew that they could do the work. I just didn't always let them. I was always in their way, I was always there. But now, they have given me the opportunity to step into my new role in the field sales department.
In hindsight, I see that my hesitancy to step back was selfish in a lot of ways. If I'm the one who is there and getting to have those learning experiences, if I'm the one feeling the pressure — then they're not, and then they can't grow. And I think of what's been given to me in my career. I've had countless opportunities to learn, grow, be pushed, and to step out into a situation that I haven't experienced before. I want to be a better leader, and reflecting on that will help me do better moving forward.
Shane: That is a great lesson. I think that's a lesson that every leader has to learn no matter what they're doing, especially for those of us who are used to being the doer. When you're the doer, and then you become the leader, that's a different world. I don't know how old you actually are, so this next question may not make any sense. Looking back on your journey and knowing what you know now, what is one piece of advice you would give your 25-year-old self? I don't even think you're much older than 25…
Madeline: I'm 31, and I actually had that reaction to the question: Am I old enough to tell my 25-year-old self what to do? But yes, I am. So much has changed in six years. A year in staffing is like 10 years in another industry.
It would be really funny if Josh Gluskin could answer this question because he gave my 25-year-old self a lot of this advice, like don't sweat the small stuff. It's the most annoying thing to hear in the moment, but it is true. Oftentimeseverything works out the way it's supposed to.
A deeper thing I could tell my 25-year-old self is to be careful not to make quick judgments about a situation or a person. Everybody is a result of their story or their life experiences at that moment.
In the field, more than anything, you are a problem solver. One of the things I loved most about working in the field was that you figure out what the latest problem is, and you come up with a solution. Once you get good at that process, you think, "Oh, I can come up with any kind of solution to anything."
I think throughout the years when I was in those roles, I was overconfident about how fast things could change, even within our own organization. Ōnin is now a big company with a rich but complicated history, and it's a big ship to turn.I see that through a company-wide lens now, and I think that I could remind my younger self that there is always more to the story.
Each person has a unique history, a unique current life experience, and a different goal and plan for their future. All of these unique people combine to make a team. Quick judgments or quick assessments of a person or situation are not going to help you build a solution or plan that will actually result in the end result that you're looking for.
Shane: You didn't start off in a leadership role — you worked your way into that. You've given some advice to your 25-year-old who was a salesperson coming in trying to figure this out. What would you say to a newer leader who is maybe in their first leadership role?
Madeline: Earn the right first — earn the right to be a leader. That means something different in each leadership role in the field. It means showing them that you're there to put in the work alongside your team.
For example, as a pit crew chief (which is what we call our sales leaders), you have to go out in the field with your sales driver to knock on doors and also go with them when they have to have a tough conversation with a client who has been let down. You have to put in the work alongside your employees because they're going to learn so much from just being with you and seeing the way you navigate challenges. They're also going to appreciate that you'll do what you've asked them to do.
Another thing I've learned recently through studying the modern workforce and the modern employee: Leaders have to be really intentional about showing employees what's in it for them if they are going to retain their talent. That holds true for any leader and employer anywhere. If an employee commits to pouring into us, we must show what we're going to pour back into them every step of the way, and that doesn't just mean providing pay and benefits.
Shane: You are the Business DevelopmentDirector for our entire organization, but if you had to hire your own replacement, what are a few of the must-haves that you would look for in a Business Development Director for Ōnin?
Madeline: I think it's critical for the champion of our sales message to know the reality of what's happening, know our industry, know the factors that are impacting the low wage earner, and know what it's like to have a tough conversation with a prospect who is unable to deliver for their customer because of a staffing issue. Each person has a unique history, a unique current life experience, and a different goal and plan for their future. All of these unique people combine to make a team.
So, my replacement would need to be willing to spend time in the field, not just observe or stop in occasionally, but put in the work. That's one side. All that comes with grit, determination and living out who we're asking our sales drivers to be. I've learned clarity wins, so this individual should be able to take all of these ideas and all of this content and really drill down to determine what the message is that you want the person across the table to receive. Oftentimes that means less is more. If you can't explain what you want your audience to hear to a child, then you can't articulate it effectively. I'm working on honing that skill, but it's not easy; it's been really tough for me. My 2022 personal mantra is "less is more" — clarity over everything because we are in a chaotic world. That's my responsibility to the field, our internal team, our company, and then also to our prospects and clients. How can I take all of this that we are living, breathing, and experiencing, and all of the confusion, and create some clarity about the reality of the situation so that we can together build a solution that makes sense? But I have to say, those who knew me at 25 who now hear my mantra of "progress over perfection" are laughing at me.
Shane: I mean, when you said "less is more" and "progress over perfection," I wanted to laugh at you a little bit because you were the person who wore me out.
Madeline: I've been called "the Schnauzer" more times than I like to admit. I am uncomfortable not doing a million things at once. When I feel like I'm hitting on all cylinders and am being pulled in a million different directions, and most of them are crisis situations — that's where I feel comfortable. Having to sit with myself and my thoughts and come up with messaging that will resonate — that's difficult. Everyone deserves to be developed, and I've been truly developed and poured into from day one, which is probably a big reason why I looked in the mirror and saw all of the areas for growth. And I'm forcing myself not to take on all of these activities and really dig into my role. I'm lucky that I've been guided and have not been left to my own devices.
Shane: Obviously, staffing has changed a lot. Shoot, it's changed a lot in the last five and six years, let alone the last 10. From your perspective, what do you think is on the horizon for light industrial staffing?
Madeline: If you think back to 2018, our recruiting strategy paradigm was the trilemma of speed, cost and quality. Those were simple times, but those metrics were true and fit the times.
Now, we've changed from using the recruiting trilemma to using the recruiting triad when we're guiding clients to a recruiting strategy. We're now asking our clients to commit to at least two sides of a recruiting strategy, with the options being: Exceptional pay and benefits, radically accessible opportunities (which is a layered topic), and then outstanding work-life balance.
In order to survive right now, most companies have to pull from at least two of these levers because everything is evolving so quickly, from pay rates continuing to skyrocket, to the lingering impacts of the stimulus money, to inflation.
Because things are evolving so rapidly, it's hard to say what the staffing market will look like in 10 years. My strategy would be to stay in the foreseeable future and try to figure out how to win right now rather than to hypothesize about what's to come.
Ultimately, we know technology is going to continue to be a huge factor in the future. I think Ōnin is going to eventually become even more of a technology-focused company even though we're always going to be true to our human-to-human connection value.
Shane: People are complex, and we're only getting more complex as individuals and as a society. In the future, it's going to get tougher.
Madeline: Now and in the future, we have to commit to being students of our environment, of our client circumstances, and of the world. When we do that, Ōnin can be, not just a staffing company that finds people for jobs, but our clients' guides through our evolving challenges. Ultimately, over the next decade, employers have got to find a way to address the skills gap. We've forgotten about the skills gap because the pandemic flipped the world upside down and created all these new challenges that we speak about all the time. But pre-pandemic, we had a growing skills gap. We had high school students who were entering the workforce unprepared. We had skilled trades workers who were leaving and not being replaced with technology fast enough. To me, the long-term solution is to help companies shift towards building versus buying their workforce.
Historically, an employer trying to hire would say, "I need somebody with X years of experience in this trade." They wanted to plug-and-play a person into a role. They wanted somebody who could, on day one, hop on a machine and start doing the job or jump in the line and immediately be a productive member of the team. Well, that is not realistic anymore in many cases.
Employers who are going to win over the next decade are the ones who are going to invest in their new hire development programs. That starts with creating an engaging new hire orientation that shows the employee what's in it for them if they commit to this position, then it goes to a training process that's actually capable of taking an entry-level employee who doesn't have skills for that job and molding them to become a productive member of the team. That takes time, resources and money.
Shane: As you were talking about that, I couldn't help but think about the turn of the industrial revolution. At that time, our modern machines weren't used and didn't exist — what an amazing time to have been around. They built this massive workforce, and they trained these people. Now, I don't even hear the word "entry level" used much. Now those are just "low wage" jobs. There's no clear career path associated with the word "entry level." We're seeing that clients who are winning the war for talent are willing to build a workforce, willing to build a culture that's inviting, and unwilling to tolerate anything else that's not. In these companies, there's a clear trajectory and a path for people.
Madeline: Employers are doing the best they can right now. And there are employers that we partner with that do offer positions to entry-level workers. Actually, we have pushed our clients to remove a lot of pieces of the screening process so that we can increase the velocity to hire because we need to put people in their seats and start pouring into them. The likelihood of that worker getting a call from another recruiter during a lengthy onboarding process is sky high.
So, we do have employers that are accepting entry-level workers. The real challenge as a company is preventing your training process from being strained by the influx of entry-level employees, because when it's strained, trainers get burnt out. The trainers' attitudes become subpar, and the new hire becomes a victim of their trainer's exhaustion.
At Ōnin, we are not just sitting on our high horse and telling our clients to make these changes. We are making changes too. I've mentioned the Road to Success and Recruiter Road. These are brand new robust training programs that we are spending countless hours developing. Our Director of Learning and Development, Garth Thorpe, is guiding teams of Ōnin leaders to curate training content that will speak to the modern learner. It is a big company investment, but it will be worth it.
Shane: You've used that term "modern worker" or "modern learner" a few times now. We know what it means at Ōnin because we've helped develop it, but help us define what you mean by the modern worker?
Madeline: The modern worker, to me, isn't defined necessarily by age group, although we all know that a lot of baby boomers are leaving the workforce and millennials and Gen Zers are filling some, but not all, of those gaps. I'm studying the modern employee in the light industrial and manufacturing industry in the low-wage earner category. Low-wage earners need to truly understand what's in it for them if they are going to commit to a position.
Right now, low-wage earners have limitless job opportunities. They can literally try out any job and then move on to the next one if they don't love it. Even if your company offers a better opportunity long-term, all the noise is confusing for that job seeker. Instead of narrowing their scope, the current job opportunities have widened their horizons, and they're receiving a lot of mixed messages. Many of them are not sure where to turn and who has their best interests at heart. They're confused, and on top of that, many low-wage earners don't necessarily have the mindset that former generations had towards work.
The modern employee works to live, as opposed to living to work. That's very frustrating for employers, but we can either resist them and throw our hands up in the air and say, "Nobody wants to work anymore," or we can meet them where they are and help mold and shape a mindset that helps them persevere through the training process. We can show workers what long-term employment can do for them and their families. When we do that, we create loyalty within our teams, and most importantly, we have a massive impact on someone's trajectory.